ruth crow project
Curated by Jen Rae & Lorna Hannan Arts House, 16 October 2016
Ruth Crow A.M. (1916-1999) believed that when people came together over a cup of tea, they could go on to do great things.
Humanitarian, social activist, environmentalist and visionary, Ruth Crow devoted her lifetime to creating a society that was better for everyone.
Hosted by Arts House to honour the 100th birthday of Ruth Crow, 100 Cuppas was a community tea party during Spring Fling celebrating North Melbourne's past and future.
Over a freshly brewed cup of Fair Share Fare blended 'Ruth Crow Tea'*, the public was invited to listen to local storytellers; enjoy baked treats from the first cookbook written by a woman in Australia – baked by the Country Women's Association of Brunswick; browse items from The Crow Collection, VU Library Research Archives; and imagine a better future with personalised tea readings by 8th generation tasseomancist Annie O'Reilly.
* Blended in Brunswick by McIver's Coffee & Tea Merchants.
BUY THE RUTH CROW TEA HERE or CONTACT JEN RAE to facilitate making great things happen with the tea.

ARTS HOUSE LISTENING PROGRAM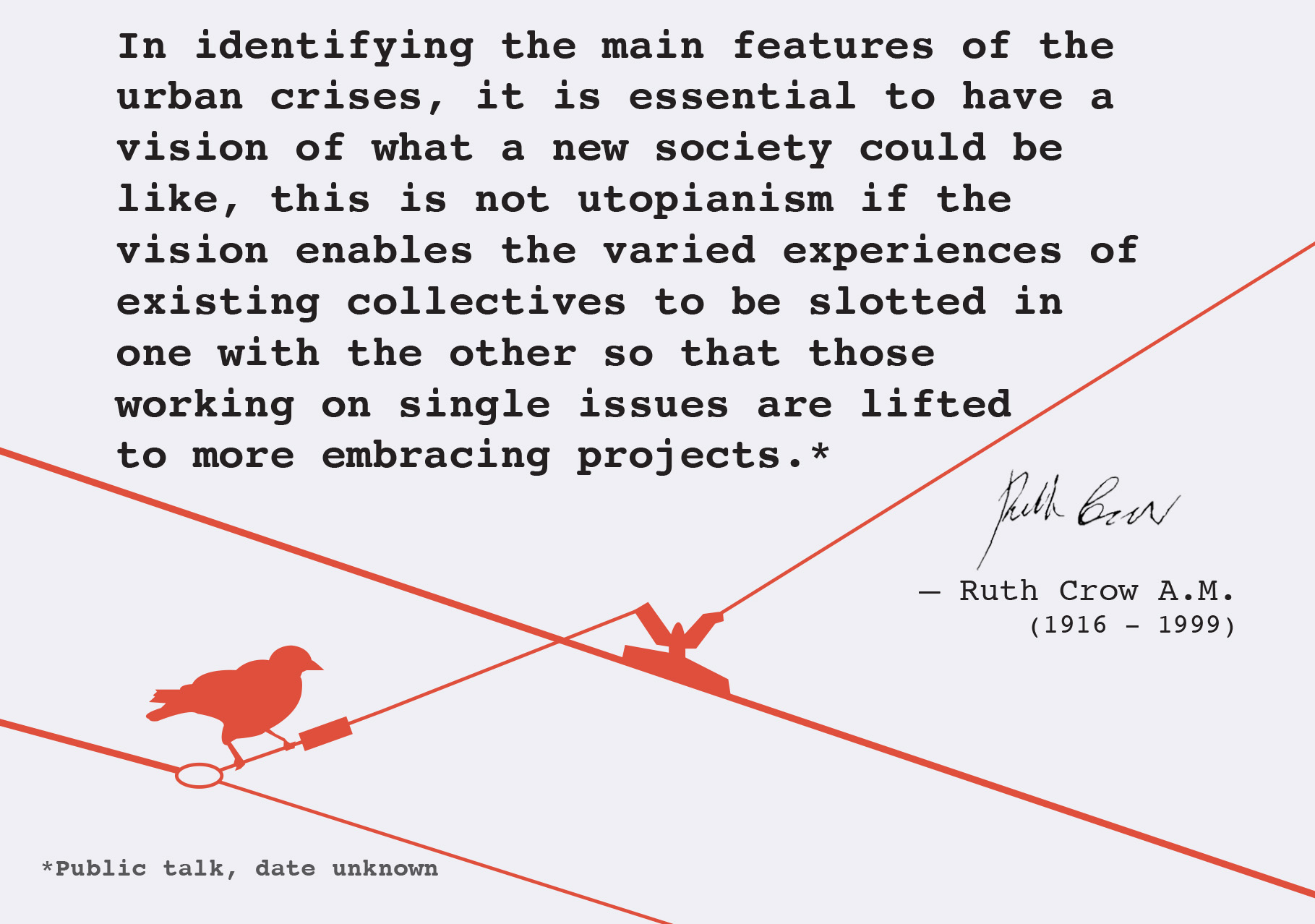 RUTH CROW POSTCARDS
Content coming.
LORNA TELLING THE STORY
Content coming.
PHOTOS OF RUTH CROW
Content coming.
ROSE CROW TEA AT MCIVER'S TEA HOUSE
ROSE CROW TEA AT MCIVER'S TEA HOUSE
Content coming.